IBM: African Commercial Research Centre will Provide a Solution to the City's Traffic
Updated: December 9, 2013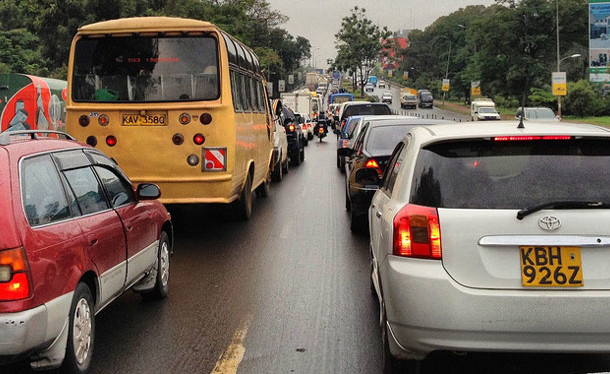 It is 7pm in Nairobi, Kenya's capital city, but the streets and highways are well-lit with the snaking car lights of thousands of bumper-to-bumper vehicles.
Windows closed against the assault of exhaust fumes, the two hours it takes to drive the 30km from the airport to my hotel is plenty of time to wonder why research company IBM would choose to locate its first African commercial research centre in this city.
My driver, Lincoln, assures me that the traffic is so bad because there was a drizzle of rain that morning, trying to improve the city's first impression and possibly filling the lulls in conversation. But the following day — in a whirlwind tour of some of Kenya's technology offerings — every trip, even if it is only 10km away, is allocated an hour or more in the schedule. In Britain, people talk about the weather. In Nairobi, traffic is the ice breaker.
"We take a problem-centric approach," explains Kamal Bhattacharya, centre director. "Everyone will tell you the importance of research and development for national socioeconomic development, such as Korea, Vietnam, India, China. Here in Africa, there is a lot of talk about it [but] the budget goes to the roads, as though if you had the most perfect roads, the problem would be solved."
The upgrading of the roads, partly financed by the Kenyan government, partly by a US$300m loan from the World Bank, is part of the problem at the moment. "From the perspective of human mobility, how do you move people from point A to point B … based on public safety information?" Bhattacharya asks.
According to United Nations human settlements programme's (UN-Habitat's) Urban Mobility Unit, Andre Dzikus, Nairobi "needs new transport alternatives urgently.  It is increasingly obvious that Nairobi must move beyond the traditional model of just building roads to solve traffic problems. It needs a combination of physical infrastructure, new ways of thinking and new technologies."
Researcher Eric Mibuari, originally from Kenya, expands on IBM's project, called Twende Twende, which is Swahili for "Let's go": "One of the things we started with was trying to address traffic congestion. UN-Habitat estimates that about KSh50m (about R6m) a day is lost to traffic congestion in Nairobi.
"To address this, we are offering motorists information to a) avoid areas that are congested in the city and b) to get from point A to point B safely," he says.
Importantly, it needs to be cheap and readily available to citizens.
Kenyan telecoms company Access Kenya — recently bought by South Africa's Dimension Data — had been trying to answer these questions themselves, using 36 low-resolution cameras deployed in the city centre.
IBM's research centre is based in the suburb of Karen, at the Catholic University of East Africa. It takes more than an hour to drive the 15km to Access Kenya's offices on the other side of the city centre.
MD of its Internet division, Kris Senanu, says that originally the cameras were installed for the company's use. "We wanted to ensure that our sales people could get around the city as quickly as possible. There's data … that can be collected, collated, analysed and used for Nairobi residents. Then IBM came along, and said 'Let's do it'… To be able to manoeuvre in Nairobi traffic, it can be dicey."
However, a major issue in Nairobi — and in other African cities and countries — is that "we don't have enough data" about problems, says Mibuari. The first thing is being able tocount vehicles, he says, and that is where the cameras come in.
"[Access Kenya] let us take the images and, working with our sister [IBM Research] lab in Tokyo, we can do image processing, vehicle counting" as well as how fast the cars are going," he says.
Using these algorithms, the project can map — in near real time — what is happening in more than a thousand road links. But how do you get this information to Nairobi citizens?
The project is in its second pilot test. The first used social media, but people in the test group were not all on the same platforms and it was not as effective as the researchers would have liked. The second, involving a thousand participants, allows people to SMS their route and traffic queries, even if they have basic phones.
It uses USSD (unstructured supplementary service data) code, which is also used to check pay-as-you-go balances or top up on credit if you are on contract. Users can either query traffic at a particular intersection, or ask for the best route from point A to point B. The directions are then sent to them in a series of SMSes.
"It's frugal from the innovation and consumption side. And kind of low-end device can query this data," Mibuari says, adding that there is also a smart phone app which shows colour-coded congestion hotspots.
While the project focuses on addressing a very localised problem, Bhattacharya takes a wider view: "Problem spaces here in Africa will drive the science of the future."
This is part of the reason why the research centre is based in Kenya rather than South Africa, Africa's most developed economy and most scientifically advanced.
"Kenya is very representative of sub-Saharan Africa. In South Africa, there are areas which are similar, others which aren't. [It] has a two-class system … [and] has many things that the rest of sub-Saharan Africa doesn't," he says.
"For us, the importance of being in Africa is to understand and live the challenges on the ground… Kenya will give us a better understanding of pan-African challenges than South Africa."
News Source: TECHCENTRAL