Police release photo of Pangani blast suspect
Updated: December 15, 2013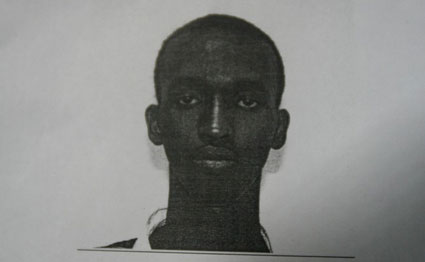 Kenyan police on Sunday evening released the photo of a suspect who is being sought in connection to an explosion in a Nairobi matatu the day before that killed six people and wounded 30 others - the latest in a string of unclaimed attacks as the country marks 50 years of independence.
The suspect, identified by police as Hussein Nur Mohamed, is estimated to be 21 years old. A warrant has been issued for his arrest.
The death toll from the blast rose to six on Sunday after two injured people died from their wounds overnight, police said. (READ: Four killed in matatu blast)
Nairobi police chief Benson Kibue said a suspect was being questioned over the attack on the 32-seat vehicle Saturday, which came from the Eastleigh neighbourhood, dubbed "Little Mogadishu" because it is mainly populated by Somali immigrants and Kenyans of Somali origin.
"We lost two of the victims in hospital where about 30 others are still admitted," Kibue said. "We now have six people dead out of that incident."
Police were trying to determine whether the powerful explosion was caused by a grenade or an improvised explosive device and whether it was placed in the matatu, carried by a passenger or flung from outside. The blast hit several cars near the matatu, killing at least one of the motorists, according to witnesses.
"We have one suspect who was arrested soon after the incident. He is assisting us in the investigations," Kibue said.
EASTLEIGH CALM
On Sunday the situation was calm in Eastleigh after police late Saturday dispersed some rioters in the street where the blast took place. Police forces were not particularly visible in the area, nor in the rest of the Kenyan capital.
It was the fourth attack during a week in which Kenya marked its 50th anniversary of independence from Britain, leaving a total of 15 people dead since Tuesday.
No links have as yet been established between the attacks, none of which has been claimed by any group.
Suspicion for some of them, though, has focused on Kenya's two-year military intervention in neighbouring Somalia to oust Al-Qaeda-linked al-Shabaab insurgents.
Al-Shabaab claimed the brutal September assault on Nairobi's upmarket Westgate mall in which at least 67 people died in a four-day siege of the shopping centre popular with foreigners.
That attack was the second deadliest after the bombing of the US embassy in Kenya in 1998, which left 213 people dead.
Homegrown groups, including the Islamist Al-Hijra group, a radical organisation formerly known as the Muslim Youth Centre, operate on Kenya's coast and have been linked to al-Shabaab.
But the authorities in the border regions and several other areas of Kenya also know there are sometimes serious conflicts between communities caused by issues such as access to water or grazing land, which can be fuelled by local politicians.
These conflicts, especially in areas where there is deadly weaponry, regularly escalate.
TWIN EXPLOSIONS IN WAJIR
Late Friday, at least one person was killed and three others seriously wounded when twin explosions rocked the Kenyan town of Wajir near the border with Somalia, police said, indicating it was likely the work of al-Shabaab insurgents or their sympathisers. (READ: Victims of Wajir attacks airlifted to Nairobi)
Also near the troubled 700-kilometre border with Somalia, gunmen on Tuesday killed eight Kenyans including five policemen in an ambush.
Another policeman is missing following the attack.
And on Thursday, the very day Kenyans celebrated a half-century as an independent nation, attackers hurled a grenade at a minibus carrying British tourists in Mombasa, a predominantly Muslim city.
The device failed to explode but it was a rare attack specifically targeting foreign visitors who are key to the economy.