Press brief on Student riots & explosive attack in Eastleigh
Updated: December 15, 2013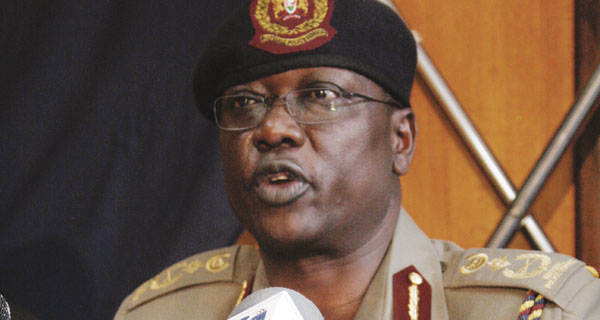 PRESS BRIEFING ON STUDENT RIOTS AND EXPLOSIVE ATTACK IN EASTLEIGH YESTERDAY 14TH DECEMBER 2013
Ladies and gentlemen
We would like to appraise the public on the security situation in Nairobi County.
The National Police Service is well aware of mayhem perpetrated last evening on innocent Kenyans, motorists, pedestrians and passers-by in the areas of Arboretum Rd, University Way, Uhuru Highway and Ngong Rd near the Kenya Science Teachers College KSTC.
These riots and attacks have resumed this morning to the consternation of Kenyans most of whom are being caught unawares as they return home from church services.
The errant students have uprooted expensive and new traffic lights outside the Luther Plaza showing clearly their disregard for public services, traffic management and security. Everything cannot be won through war. Violence is not an option.
I want to make it clear that am determined to lead and tackle crime and security incidences under lawful manner and in line with the constitution of Kenya.
I am aware that the cause of this anger is an alleged killing of a student by one of our officers.
I direct the victim's family and college institution to record a formal complaint with my office at Jogoo House A and also to report to their nearest police station, record the incident and obtain an OB number slip in writing.
National Police Service is itself an institution charged with the security and enforcement of law in Kenya and must first and foremost be seen as an upright institution and doing it's part to implement the constitution.
I have warned errant officers that his office is a zero-tolerance to corruption practices and other illegal conduct.
The accused officer, will face the law and must explain to the Kenyans and the world in what circumstances an unarmed student ended up dead.
The preliminary findings will be expected within 48 hours and I therefore ask the aggrieved to remain calm and give us a chance to do our job.
In regard to the bombing incident yesterday, from the outset it looks like this was NOT a grenade attack but an Improvised Explosive Device (IED).
This incident is unfortunate and highlights the fact that Kenya is still at war with extremism and al shabaab forces and so vigilance, consistence checks and enforcement are mandatory.
Are PSV operators not screening passengers before boarding? How did the device make it into the public service vehicle? These are questions we all need answered.
I emphasized that officers must not substitute uniform and professional law enforcement with globally unacceptable profiling standards.
This incident is NOT an excuse to harass and extort money from Somalis. We are one people and criminal conduct cannot and shall not be directed to communities. Therefore responsibility will be pegged on individuals and or groups/gangs of questionable character and with dubious intentions.
I finally urge Kenyans in the regions where by-elections will be held to conduct their campaigns and election peacefully within the rule of law.
THANK YOU! GOD BLESS KENYA.
DAVID M. KIMAIYO, CBS, DSM
INSPECTOR GENERAL
NATIONAL POLICE SERVICE