Uhuru Unveils New Traffic Command Centre
Updated: December 10, 2013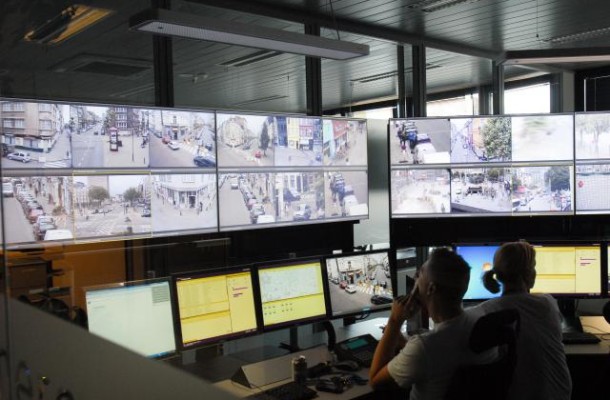 A new command centre to coordinate traffic operations and crime management using Close Circuit Television ( CCTV) cameras in Nairobi has been launched.
The centre, based at the office of the Inspector General at Jogoo House, was launched Monday by President Uhuru Kenyatta marking a milestone in the fight against crime in the city at large.
The low-key event saw the president also commission more police cars to be used for operations in Nairobi. The Sh437 million integrated camera and traffic lights system is the first step in the new battle to bring sanity to a chaotic transport sector and address a number of crimes.
It has 80 screens and a number of telephone lines, which the officers manning it will be using to coordinate operations in the city. More than 51 cameras have been installed within the city enabling live video streaming as well as recording for future necessities.
Those present said the president commended the job done in installation of the cameras and the centre and urged for expansion of such programme to other urban areas.
Present were Deputy President William Ruto, Interior Cabinet Secretary Joseph ole Lenku, Principal Secretary Mutea Iringo, IG David Kimaiyo, Governor Evans Kidero and his two deputies among other senior officers.
Kimaiyo said the new traffic lights will improve traffic management and monitor inter-connected traffic signals. "It will capture the happenings at the junctions and any traffic offences. It will capture speeding vehicles through number plate recognition and other criminal activities at selected areas," said Kimaiyo.
The surveillance system has also been fitted with smart cameras that will record faces of people "Let offenders beware because now we are watching almost every corner and we hope to reduce various crimes by a big margin.
It will have an impact on the city, which has been grappling with attacks linked to different crimes including terrorism and daily robberies." He further explained that the cameras will be on for 24 hours and urged motorists to familiarise themselves with traffic regulations and strive to obey them.
"The cameras will be online 24/7, and whether it's in congested traffic jam, free flowing traffic or late at night, big brother is watching. Evidence for any traffic offence will be there in digital format, and probably if the court says so, printed on paper," he said.
He said the project will further be rolled out within estates within Nairobi to curb the rising cases of insecurity. The project will be replicated in other urban towns in the country. In addition, the camera system will be used as a crime-fighting tool and where a vehicle is suspected to have been involved in criminal activity, it will have its registration plates circulated by police.
This means that if you break any traffic laws like jump lights, make U-turns, wrong turns, overtaking in restricted areas, entering through no entry areas or pick at the wrong points, your vehicle registration number will be captured by the camera.
The areas covered include: Kenyatta National Hospital, Country Bus Station, Muthurwa Market, Kirinyaga Road, Gikomba and Machakos among other major roads.
The cameras are also positioned at the city's Kencom House Bus stage, Ambassador bus stop, Railways terminus, Tea Room, Odeon Cinema, KICC, Afya House, Macmillan Library, Gill House, City Market, GPO, Cross Road, OTC and Nyayo House among other locations.
Cases of mugging and pick pocketing are rampant in these areas. Traffic marshals from City Hall have also been positioned at various junctions to help in manning traffic.
News Source: STANDARD Digital