New road building technology
Updated: November 28, 2013
The Murang'a County government will adopt a new road construction technology which will see it save millions of money and provide access to rural areas.
The method, to be used for the first time in the country, involves mixing soil with a polymer based chemical which is then compacted and hardens to make the surface impermeable to water.
The result is a dustless all weather road which requires simple maintenance over time.
The chemical known as Top-Seal sealant solution is the brainchild of Terra Pave International from Houston Texas, USA and has been in use for the last 17 years in America and in various African countries.
According to area County Executive in charge of Roads, Transport and Infrastructure Amos Njoroge, the method will save the county a third of the total cost used in constructing roads.
Speaking Monday near Murang'a University College on a stretch of road which has been constructed using the technology, the county official said poor roads and costly methods of road construction had hindered development of infrastructure.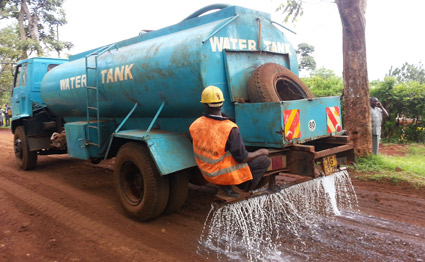 "We may adopt the technology in the next six months after observing and testing it on the demonstration area," said Mr Njoroge.
According to Terra Pave boss Mr Andres Jackson, the material holds soil particles together forming a strong bond which ensures water does not stand and that dust particles are tamed.
"This technology has been used in Cameroon, Nigeria, Madagascar and Senegal and ensures the roads last for long requiring only minimal maintenance," said Mr Jackson.
He said it was a cheaper way of making roads which could work with any kind of soil that can be compacted. It however does not work well with sandy soil.
"It saves up to a third of the total amount of money used in making roads in the normal way," he said Monday during a demonstration on a stretch of road near the Murang'a' University College in Murang'a Town.
The material, he said, is environmentally safe with no harm at all both to animals and plants.
"It is very simple to use as all one requires to do is to level the road and pour the sealant solution then compact it and the road is ready for use in a day," he added.
According to Impulso Kenya which is distributing the product in the country, the product has been tested and approved by the National Environment Management Authority (Nema).
"The product has been found to be safe and environmentally friendly and its purpose is to hold soil particles together for a long time," said Impulso Managing Director Peter Wafula.
News Source: DAILY NATION