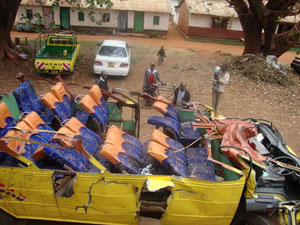 A village in Machakos County was Sunday engulfed in grief after a family's celebration of "an accomplished marriage" turned tragic killing 23 people who included guests, relatives and hosts.
The sorrow that was written in every corner of Kawethei Village in Kangundo Constituency, forced many Christians in the area to skip yesterday's Sunday Service.
Those who went to the nearby Africa Inland Church just muttered words of prayer, then hopped onto the nearest matatu and dashed to Machakos Hospital Mortuary to either identify a body or two of loved ones or to condole a survivor or another in the ward.
Others thronged the homestead of the late Richard Muneene Makau — the host of the fateful celebration and who also died in the road crash.
The Standard team visited the area yesterday and met Mr Patrick Nzioki Makau a younger brother of Muneene who recollected the events that led to the macabre crash.
Nzioki said the dead and injured met their fate at Mbooni Bridge at 11pm on Saturday after attending what is referred to as ilute ceremony for Muneene marriage.
The ceremony, said Nzioki, is the final stage of paying dowry in Kamba custom. He explained: "This is a rite where a man goes to his in-laws to slaughter a bull for them as an indication that he has completed paying the dowry for his wife."
In this case, Muneene organised such a ceremony and as is customary, invited his relatives, age-mates and friends in the village.
The Entourage
Muneene was 68 years old and his wife Ruth Mbula 10 years younger. They had been together for at least 40 years, said Nzioki. Muneene who worked for Twiga Stationers Ltd on contract after retirement was popular in the area and guests came to his function in droves, said Nzioki.
Having sent a few of his relatives to take care of slaughtering the bull at his in-laws' homestead in Kathonzweni village in Makueni Constituency, Muneene arranged for his entourage to leave Kawethei early on Saturday morning.
"Several vehicles were in the convoy. However, he and his wife chose to take charge of the minibus. It was agreed the previous night that all who would travel by the truck would converge at Kawethei shopping centre by 7am. Everybody complied, and 30 minutes later, the journey to Makueni began," he tearfully told The Standard.
The convoy of guests arrived at Kathonzweni village at around 11am. Everything went as planned.
At 6pm, said Nzioki, all concurred that enough was enough and guests were free to leave at their pleasure. Satisfied with everything, Muneene and his group departed at exactly 6.30pm.
However, something interesting happened: Mbula chose to remain with her relatives to catch up with a few things. Muneene had no objection.
When The Standard visited the village, Mbula was not there because she was in Machakos condoling with those admitted and helping to identify the dead.
Anyway, the journey back to Kawethei started with the minibus in front, while Nzioki followed 10 minutes behind in a pick-up, which was also used to ferry plastic seats, canvas tents and other necessary apparatus to Kathonzweni. In any case, in such a rite, customs of this community demand that the bride's side does not incur any expenses.
This leg of the journey was also uneventful until 11pm when Nzioki's truck found that the minibus had plunged into the bridge in Mbooni.
This, perhaps, marked the turning point in his life because six people from the larger Makau family died on the spot.
The sorrowful Nzioki said the accident had not only saddened the entire village, but also robbed the larger Makau family of most of its breadwinners.
"Besides Muneene, I lost two other brothers, two nephews and a six-month-old infant who was Muneene's grandson. Can I call him a grandnephew?"
Whatever the case, Nzioki and a few others who travelled in the laden van and private cars spent the entire night pulling bodies and survivors from the wreckage and ferrying them to Machakos Hospital.
Unconscious
They got a breather in the middle of the night when traffic police arrived and assisted in the exercise.
After that, Nzioki who looked exhausted but still strong went ahead to load men's and women's handbags, shoes, scarves, coats, jackets, wrapped gifts and many other personal effects onto the pick-up.
However, one of the most daunting tasks, he conceded, was how to deal with the many callers on the myriad phones he is stuck with from the dead and the unconscious victims.
"I would say most people who attended the function are close relatives and this being a small village, I would know which handset belonged to who. But answering these calls when the owner is dead and the person on the other end is just a child enquiring about the whereabouts of his mother or father is difficult."
He said he answered a few and ignored others for the sake of the callers. In most cases, he said, he would refer the caller to Machakos Hospital, to know the wellbeing of his or her relative.
It proved difficult for The Standard to visit other affected families in the area because Nzioki could not reveal their identities since their next of kin had not been informed.
A few visibly worried girls and boys were seen speaking to Nzioki, who would in turn assure them in Kikamba that all was well.
"This matter is becoming more complicated because schools are closed and it is on a Sunday. They are supposed to be playing with others or running errands for their parents not worrying about their (parents') whereabouts," he rued struggling to hold back tears.
Plan to cut cost
And Mathew Mwangangi, who is married to one of the Makaus, appealed to the State to assist the villagers in meeting funeral and burial costs.
Mwangangi also suggested to affected families to hold joint funeral meetings and conduct the burial ceremony for the 23 on the same day to cut costs.
In the meantime, Nzioki is not sure whether the family will have to hire fresh furniture, tents and other accessories for funeral and burial ceremonies of the six departed family members.
Rather, he said, he will consult with his other surviving brother on the way forward.
"These decisions are very difficult to make alone although I see nothing wrong with using these items. On whether we should have joint funeral arrangements or not, that will be subject for discussion by those affected."
Separately, it was established that residents of Kawethei have a social welfare self-help group where members pay a monthly contribution to cater for needs like bereavement, accidents and social rites like ilute.
Source: http://www.standardmedia.co.ke/InsidePage.php?id=2000041316&cid=4&