In touch and on a roll
Forgot where you parked? Stuck in traffic and fighting boredom? Solutions to these problems and others are at hand in the form of new technologies that put the power of the internet-based information and entertainment on wheels.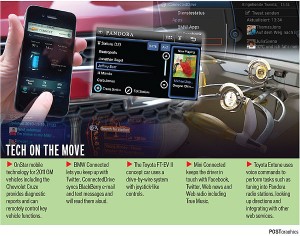 Global car manufacturers are moving quickly to tap drivers' desire to stay in touch every second of the day by developing applications that effectively make a car an extension of a smartphone.
An example is Mini Connected, the in-car entertainment system now that displays popular social media including Facebook and Twitter, web news and web radio on the console of the small luxury car.
"This is a stepping stone for in-car 'infotainment' in Thailand," said Krisda Utamote, general manager of Mini Thailand.
Drivers can download the application from the Apple App Store, using a cable connecting the car with an iPhone on the True Move mobile network.
Information on the phone will be displayed on a dashboard monitor. A voice output function can read text aloud, which ensures safety.
The application will automatically stop displaying video on the phone while the car is on the move, another safety feature.
Mr Krisda said Mini was also was preparing to launch a Google search feature for a local navigation system now being developed.
"I believe that the connected car will be one of the standard options within five to 10 years," he said, adding that the technology was now a selling point for buyers of luxury cars.
BMW, the German parent of Mini, has a similar BMW Connected app, allowing drivers to use iPhones to download Twitter, Facebook and internet radio to their cars. A related application called BMW ConnectedDrive syncs BlackBerry e-mail and text messages to the BMW iDrive system over Bluetooth.
Lexus, the luxury division of Toyota, offers the Lexus Enform trip planner, which can send destination information to the Lexus Navigation System and even share plans with friends via Facebook. Drivers can navigate the system using a trackball-like device for safety.
Toyota is also offering a new entertainment platform called Entune that is activated by voice commands to perform tasks such as tuning into Pandora radio stations, looking up directions and integrating with other Web services such as the Bing search engine.
Users can install the Entune app on an iPhone, Android or BlackBerry device to communicate via the car's built-in touchscreen.
Smartphone applications can also help drivers control vehicle functions ranging from locking and unlocking to remote starting, or activating the horn and lights to help locate a car in a crowded parking lot. They can also provide diagnostic reports including fuel and oil levels, recommended tyre pressure and lifetime average miles per gallon.
Such applications are part of the OnStar system that is being introduced in many General Motors products for 2011, including the Chevrolet Cruze. However, the service is not yet available in the Thai market.
Ford, meanwhile, offers the Sync system, which allows the use of a Bluetooth-enabled phone for hands-free calling, automatic phone book uploading and audio text messaging.
According to research by IHS iSuppli, Bluetooth has become the de facto standard for wireless connectivity in vehicles, primarily to accommodate hands-free calling. There are also new or maturing alternative Bluetooth profiles to accommodate data connections for music, messaging, basic control functions and mobile apps provided on the smartphone.
Article source: http://www.bangkokpost.com/business/economics/230571/in-touch-and-on-a-roll