2014 BMW i3 First Review: Paving a new path for electric vehicles
Updated: November 22, 2013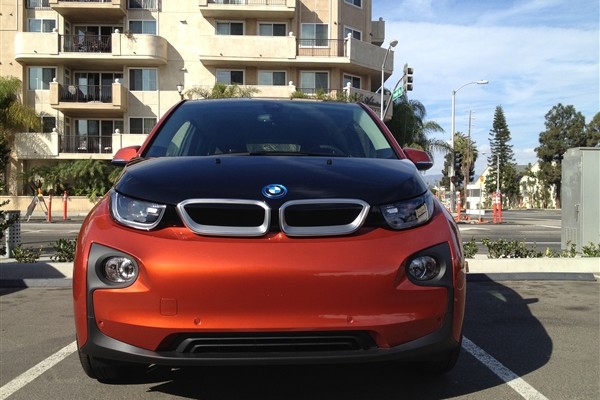 The i3 is a 5-door, 4-passenger electric vehicle whose body is made out of weight-saving carbon-fiber reinforced plastic, a first for a mass-produced vehicle. Its lithium-ion batteries give the i3 an estimated range of 80 to 100 miles. It recharges in anywhere from 30 minutes on an SAE DC Combo fast charger to 20-plus hours on a 110-volt line. In between and recommended is a 220-volt home-charging station that gets the job done in three hours. For commuters anxious about the dreaded "range anxiety," the BMW i3 will be available with a tiny, 2-cylinder gasoline engine that acts as a generator and essentially doubles the non-stop range and would allow you to get across the country with stops for gas every 100 miles or so.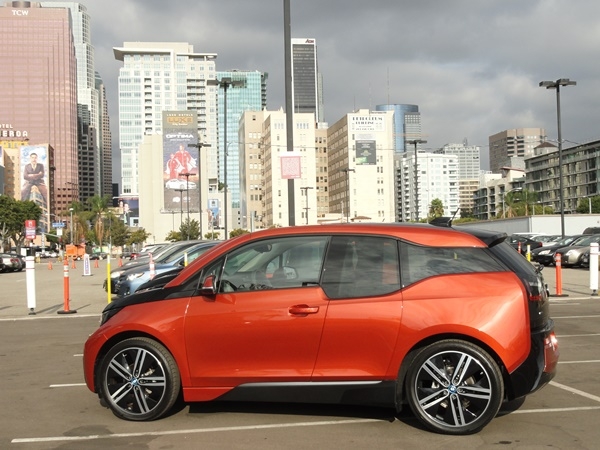 This small car is a big deal for BMW. It represents the first of the automaker's "i" sub-brand of eco-conscious cars. But does it still drive like a BMW?  We got a first impression behind the wheel of the 2014 i3 around the foothills of West LA. The drive was at once strange yet rewarding. Here's why.
THE STRANGE
BMW says the i3 is a "single pedal driving concept." Don't worry — it still has traditional accelerator and brake pedals, but the fact is, you don't need to use the latter much. The 2014 BMW i3 has a very strong regenerative braking system that enables the car to recapture energy that is then fed back into its battery pack. Nearly as soon as you lift off the accelerator pedal, the car begins slowing significantly. As we tested the car on the highway, in the city and over the twisty roads of the famous Mulholland Drive high above Los Angeles, there were many times when we didn't even need to use the brake pedal to slow the car or even to bring it to a full stop. It's really a new way of driving, and in that respect you have to relearn how to do it in the i3. That said, catching on isn't all that difficult. We reckon after some extended time behind the wheel, going back to a "regular" car would feel just as odd as driving the i3 does initially.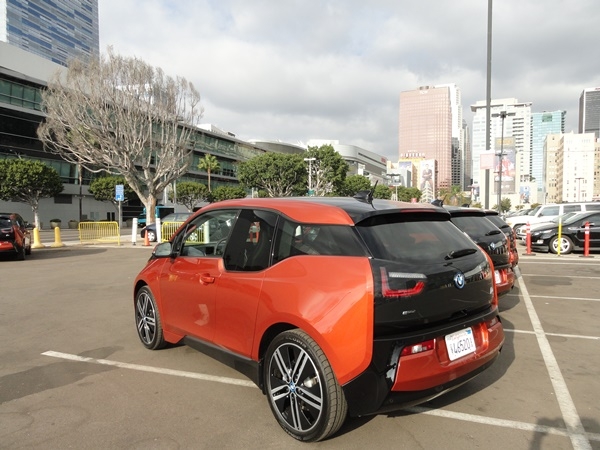 Also strange for a BMW, you won't notice a "sport" mode in the i3, at least not at the moment. The three choices are Comfort, Eco Pro, and Eco Pro+. The latter two modes extend range by cutting throttle response, top speed, climate settings and more to eke out more miles. After experimenting, we found the Comfort setting most favorable. We also found the i3′s stated range realistic, and its well-positioned screen behind the steering wheel kept us in-the-know in real-time.
Great, so BMW's electric car can boast its efficiency credentials. But does it still drive like a Bimmer?
THE REWARDING
And here's where we breathed some relief. Many electric cars have surprising straight-line acceleration. That's just the nature of electric motors — they have an abundance of torque, which translates to push-you-back-in-the-seat acceleration.
It's no surprise that the i3 has similar performance. By BMW's numbers, the i3 can go 0-60 mph in 7.2 seconds, which is quite fleet thanks to the vehicle's sub 3,000-pound weight and the motor's 170 horsepower/184 lb-ft of torque. Once at speed, the BMW i3′s acceleration is still impressive. When we were at freeway speeds and needed to pass slower traffic, for example, the i3 still had plenty of juice for doing so thanks to an electric powertrain that provides instant thrust. The real test of its BMW-ness, if you will, came on the twisty roads of Mulholland. Here the i3 stayed commendably planted, and because it's rear-wheel drive, it behaved more like a sports car when entering and exiting tight turns than, well, your average front-wheel-drive electric car. With its higher profile and shorter stance, the i3 is no 3 Series, but its low center of gravity helps the car stick better than you might suspect.
THE REST
Other attributes of the i3 are a mixed bag. Its rather high step in can make getting inside — especially the rear via the carriage doors — a bit awkward. Once settled, though, the seats are comfortable and the rear seat is roomier than you might first believe. Rear passengers will have to contend with a large black pillar to their left or right, but the peculiar vertical shape of the rear windows counters that aspect with a good view out. Up front, the large, center-mounted wide-screen display had some of the highest resolution we've seen from a rear-view camera, and the sleek wood paneling that surrounds it is worthy of placement in a high-end Scandinavian hotel. Yet the sun visors fail to extend, and even in our top-line model, this electric car's seats had no power adjustment. Overall fit and finish is impressive — that eucalyptus dash really makes a statement — yet some of the earth-friendly material in other parts of the dash and door panels looks like compressed attic insulation.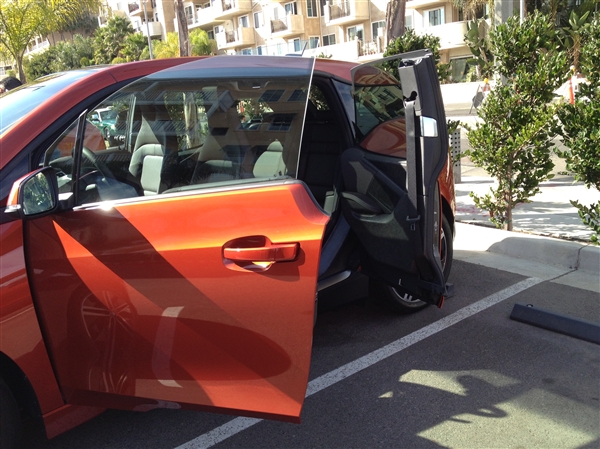 Then there is the i3′s exterior design. Love it, loathe it or still don't know what to make of it, we can safely say it's different. To be fair, it also needs to be seen in person. Three dimensions are kinder to this car than two. One fellow commuter in a Mini Countryman next to us not only filmed from the other lane with his phone, but peppered us with questions when we came to a stoplight. Expect similar levels of inquisitiveness if you're an early adopter of the BMW i3.
THE TAKEAWAY
Whether you want to adopt it at all depends largely on whether you fit the hypothetical buyer description outlined above — basically one who desires an electric car like the Nissan Leaf, but with premium features, sporty driving manners and European badge appeal. The fact that the i3 can be equipped with a range-extending gasoline engine for a few extra thousand dollars makes it even more enticing and broadens the net of potential buyers.
There are several electric vehicles that can be had for less money, but few offer the dynamic driving manners or the premium creature comforts of the i3, and none offer both below this price point. As BMW's first real foray into the EV world, we think the i3 is a good — if not slightly peculiar — start. It won't be for everyone, but no electric vehicle is. And those seeking more performance can stay tuned for the six-figure i8 sports coupe.