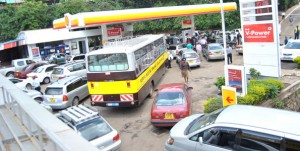 A major fallout has occurred in the oil industry after middle-tier companies accused multinationals of manipulation of rules, and engaging in cartel-like conspiracies that have pushed the price of fuel to unprecedented highs.
Just two days after the Energy Regulatory Commission (ERC) adjusted prices upward, a group of middle-tier oil companies yesterday said the problems bedeviling the industry have been instigated by multinationals arm-twisting the Government to bend industry rules on issues regarding product importation, storage and distribution.
The middle-tier companies, congregating under the Petroleum Industry Association of Kenya (PIAK), said the multinationals have been manipulating the open tender system (OTS) by refusing to participate, then going ahead to accuse the importers (mainly middle-tier companies) of inability to procure the product on behalf of the industry.
They also accused the multinationals of pressuring the Government allocate ullage at the Kipevu Oil Storage Facility (KOSF) on the basis of opaque market share statistics, instead of individual company's capability to lift products from the constrained Kenya Pipeline Company (KPC) facilities.
Direct result
"The unnecessary fuel shortages experienced are a direct result of continuous manipulation of the system by this cartel-like behaviour of these majors in order to take advantage of the price control regime," said PIAK Chairman, and Hass Petroleum Chief Executive, Issa Sheik Mohamed.
He added the country could experience a major shortage in the next two months after small companies were left out in an emergency tender for importation of products for the month of June and July totaling 95 million litres.
Two days ago, ERC raised the maximum price of super petrol in Nairobi by Sh4.18 per litre to Sh115.35 in Nairobi. Diesel prices went up by Sh2.58 to Sh108.02 per litre, and kerosene by Sh3.88 to retail at Sh92.61 per litre.
The recent increase, which has pushed the cost of living unbearably high for most Kenyans, has caused a major uproar with consumer lobby groups threatening to mobilise Kenyans for mass action.
PIAK said Kenyans should brace for more suffering because the oil industry in the country is in the hands of a few multinationals, and the Government has failed to rein-in on their cartel-like behaviours that are pushing the price of fuel upwards.
Include Extensions
"The Kenyan market should expect to be at the mercy of a few major oil companies because they have the muscles to hold the country at ransom by arm-twisting the Government, and by the extension, the market," said Mohamed.
According to statistics by industry lobby group Petroleum Institute of East Africa (PIEA), the leading four companies Total Kenya, KenolKobil, Kenya Shell and Oil Libya command 74.9 per cent market share.
PIAK members, who are over 45 and are mainly locally owned, control the remaining share.