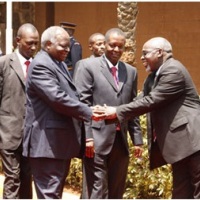 President Kibaki has directed the immediate enforcement of the laws that require all motorcycles and Tuk Tuks to be insured and their riders properly trained and licensed.
The President also directed the enforcement of the rules that require all motorcycle riders and passengers to use helmets and reflective jackets, and motorcycle taxis not to carry more than one passenger at a time.
In addition, the President urged passengers and consumers of public means of transport to play an active role in ensuring that road safety regulations are enforced.
President Kibaki who was speaking today when he opened a one day National Road Safety Stakeholders Conference on road safety at Bomas of Kenya, at the same time, ordered an immediate crackdown of motorists who over speed while under the influence of alcohol and other intoxicants.
He asked the National Road Safety Council to come up with applicable solutions to recurrent abuse of road rules and regulations by defiant motorists.
Noting that some motorists tend to over speed on the improved roads, the Head of State said penalties should be stiffer as a deterrent measure to those abusing traffic rules. The President observed that the new and increasingly popular means of transport such as boda bodas, motorcycles and tuk tusk posed new road safety challenges that should be dealt with.
Observing that operations of these popular means of transport are not adequately catered for in the existing legislation regime, President Kibaki said the National Road Safety Council should ensure Kenyans are socialized to adopt positive attitudes towards personal safety and the safety of other road users.
"The Government expects the Council, which has broad representation from both the Government and the private sector, to competently achieve the goals outlined in the Action Plan," President Kibaki said.
In order to ensure that road transport sector, which is one of the largest employers and generator of significant incomes for Kenyans, plays its expected role in the economy, the President said, insecurity, indiscipline and unethical practices must be firmly dealt with. The Head of State emphasized that there should be no excuse for the concerned agencies not to enforce the rules that are intended to ensure safety, order and discipline in the transport sector.
The President particularly expressed concern over the increasing number of deaths and serious injuries involving motorcycle riders and passengers, saying the situation called for urgent and sustainable interventions to curb road accidents and avert increased deaths and injuries.
Said the President: "I wish to emphasize that as the Government seeks to make interventions to ensure safety, passengers need to play a more proactive role by raising concerns on over-speeding drivers and those who do not adhere to traffic regulations. "Passengers can stay away from those vehicles known to flout traffic regulations. The participation of wananchi is critical to ensure safety on our roads," President Kibaki added.
The Head of State also asked drivers to not only comply with traffic regulations but also develop a culture of courtesy and order.
The President particularly stressed that defiant motorists who take advantage of improved roads to over-speed while under the influence of alcohol will face stiffer penalties. Noting that road accidents are approaching crisis proportions, President Kibaki urged Kenyans to take personal responsibility in ensuring road safety to avoid loss of lives. The President called on transport operators to embrace effective management styles to achieve their economic objectives while satisfying safety standards set by the regulators. President Kibaki said: "With proper consultations among players in the industry, there can be consensus on how best to regulate vehicle routes, termini and stages and bring order for the benefit of all."
President Kibaki also urged agencies concerned with road construction in the country to strengthen the road safety component in road design and construction by seeking ideas and useful expertise from member- agencies of the National Road Safety Council.
"This is crucial to ensure that black spots are identified and reliable data on road safety is integrated in road infrastructure development," the Head of State said. In order to register meaningful achievements, President Kibaki noted that road safety will also rely on technology to improve safe motoring, eliminate the use of forged driving documents, curb driving while under influence of alcohol and enhance sharing of information among stakeholders.
Similarly, the President said, road safety interventions must incorporate the aspect of environmental pollution prevention, saying air pollution due to poorly maintained vehicles is a growing problem that should be addressed by ensuring that vehicle exhaust emissions are at accepted levels as set by law.
Noting that Kenya, together with other member-states of the United Nations, made a commitment to implement the recommendations reached during the International Conference on Road Safety held in Moscow in November, 2009, President Kibaki said his Government will continue to partner with development agencies, non-governmental organizations and corporate bodies to tackle the challenges of road accidents in the country.
Speaking during the occasion, Transport Minister Amos Kimunya clarified that the traffic rules introduced in 2004 by the Government have not been suspended contrary to public perception. Mr. Kimunya said the momentum created during the first year of implementation of the rules was slowed down by defiant motorists who devised ways of circumventing the law. The Minister assured road users that the Government was working on ways of ensuring compliance of traffic rules on a sustainable basis including new advances in technology to replace speed governors that are easily manipulated.
Other measures introduced by the Government to restore sanity on the roads, Mr Kimunya said, included initiating policy, regulatory and institutional framework reforms geared towards enhancing road safety standards. On decongestion of roads in central business districts (CBD) of major urban centres, the Minister said the gradual phasing out of the 14 -seater public commuter vehicles in favour of bigger capacity buses has been approved by the Cabinet and will be implemented from January next year.
He called on the various county councils to work with the Ministry of Transport on the appropriate mechanisms to implement decongestion programmes in the counties. With regard to use of modern technology in road safety data management, the Minister said plans are finalized to interlink all road safety agencies through a stakeholders' computer integrated system to enhance sharing of information.
"We have also started discussions with the Ministry of Information and Communications on use of fiber and GPS technology to monitor vehicles behaviors on the roads particularly at lights controlled roundabouts and speed monitoring.
Others who addressed the conference included the Chairman of the National Road Safety Council Mr Cyrus Njiru and the Director of Automobile Association of Kenya Mr. David Njoroge. In attendance were cabinet ministers Franklin Bett, Samuel Phogisio and Njeru Githae, several Assistant Ministers, the Head of Public Service and Secretary to Cabinet Amb. Francis Muthaura, representatives of the World Bank, AU, ADB, JICA and members of the diplomatic corps among others.