Day 1 - Kenya Airways East African Safari Classic Rally
Updated: November 22, 2013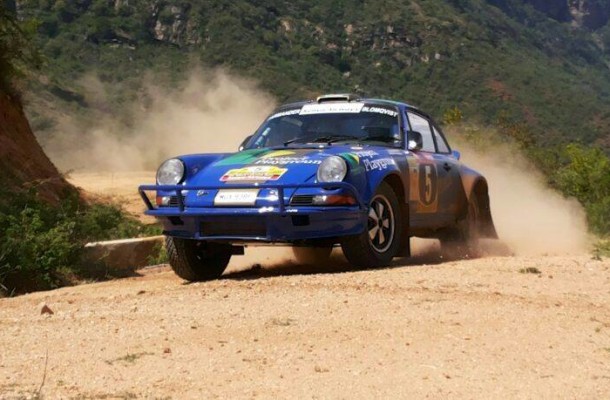 A relatively straightforward and undramatic opening day for the Kick Energy Amigos Rally Team sees all three cars inside the top ten after over 200 kilometres of timed high speed rallying on the Kenya Airways East African Safari Classic Rally 2013.
Minor handling issues on car 7, the BTR-prepared historic specification Amigos Tequila-flavoured beer branded Datsun 260Z, were the only problems reported by Steve Perez at the end of day service in the Taita Hills, close to the Tanzanian border.
Chesterfield-based Perez had been apprehensive at the ceremonial flag off in Mombasa this morning. That was because he very nearly crashed into an elephant on section two a few years ago and section three was something of a bitter sweet stage for Steve as it was the scene of his first ever Safari Rally stage win back in 2009, but was also the same section where he lost over an hour in 2011 with a broken propshaft.
This year, thankfully, no such problems but Steve did admit to having his confidence dented keeping the wayward rear end of his powerful Datsun in check at speeds of almost 200kph.
The co-driver of car 7, John Millington (who it has been confirmed is actually a Yorkshireman, not a Welshman as incorrectly stated yesterday….) was wide eyed at the end of day service commenting after three completely different sections: "Absolutely incredible! The World Rally Championship would never allow this but its so much fun!"
The opening 85 km section had been run parallel to the East coast of Africa and was very hot and humid. The second test was a 67 km blast through a wilderness reserve and it was here that Steve averaged 122.4kmh and regularly saw over 190kmh on the speedo, all the while keeping an eye out for wildlife.
The third stage of the day was run through the scenic Taita Hills. Steve was disappointed with eleventh fastest as he typically goes well on this section and at the end of day service the mechanics were busy changing the suspension back to the 2011 settings.
"I lost a lot of confidence today as the car was very wayward at the rear," said Steve. "We have reverted to our 2011 settings so hopefully that will cure the problem. The stages are in amazing condition but it is really, really fast out there! I am in the perfect position, just behind my two fellow G-WRC team-mates Geoff Bell and Andrew Siddall so I can keep an eye on their times," said the former British Historic, National and BTRDA champion.
Day 2 was originally scheduled to be 214km of competitive action but the final stage has been changed to a non-competitive section and so now the crews will tackle 153 kilometres competitively before they arrive in Arusha in Northern Tanzania tomorrow (Friday) afternoon. The day will effectively see the crews traverse the foothills of the snow-capped Mount Kilimanjaro, the tallest mountain in Africa.
Results to end of Day 1
1 Stig Blomqvist/ Staffan Parmander - Porsche 911 - 02:09:45
2 Ian Duncan/ Amaar Slatch - Ford Capri - 02:10:48
3 Bjorn Waldegard/ Mathias Waldegard - Porsche 911 - 02:13:36
4 Gerard Marcy/ Stephan Prevot - Porsche 911 - 02:13:27
5 Alistair Cavenagh/ Flash Tundo - Ford Escort - 02:14:23
6 Gregoire De Mevius/ Alain Guehennec - Porsche 911 - 02:14:36
7 Geoff Bell/ Tim Challen - Datsun 260Z - 02:15:45
8 Bernard Munster/ Johan Gitsel - Porsche 911 - 02:16:53
9 Andrew Siddall/ Carl Williamson - Datsun 260Z - 02:17:23
10 Steve Perez/ John Millington - Datsun 260Z - 02:17:25