Day 9 - A nail-biter as Duncan wins for Kenya
Updated: November 29, 2013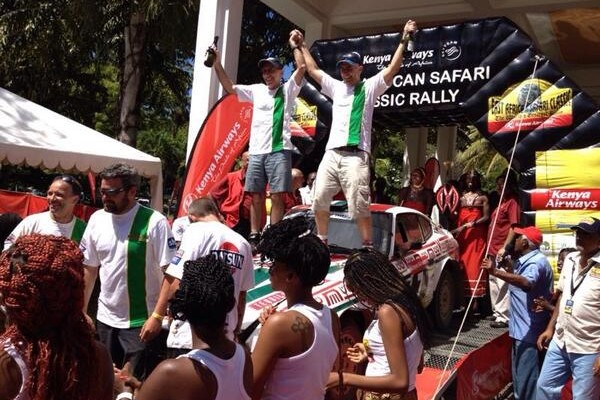 When Stig Blomqvist (Porsche 911) and Ian Duncan (Ford Capri V8) started the last day of the East African Safari Classic Rally this morning, they were separated by just nine seconds with Duncan possessing the miniscule advantage. On the first competitive section – a run back through the Taita Hills – almost incredibly these two drivers set equal fastest time with the stopwatch unable to separate them. Thus the gap remained nine seconds in the Kenyan driver's favour.
But on the second section, the tide of fortune turned once again and this time it was in Blomqvist's favour as he beat Duncan by forty-seven seconds and thus led the rally by thirty-eight seconds with just one competitive section before reaching the finish ramp at the Whitesands Hotel in Mombasa.
However, there was one major twist of fate still remaining in this extraordinary endurance rally for classic cars when Blomqvist punctured on the very last section and lost four minutes and the lead. Thus Ian Duncan and Amaar Slatch win the Safari Classic for the second time in four years to lift once again the hearts of their faithful Kenyan supporters. After this ongoing battle of seconds Duncan's overall lead was 3 minutes 14 seconds over the Swedish crew. For Blomqvist, who said before the rally that he never had much luck on the Safari, this was a bitter blow when it looked as if Dame Fortune was finally going to smile on him in Africa.
A Porsche won the last Safari Classic in 2011 and this time the German marque almost filled half the entry list. Indeed, seven of them finished in the top ten places with only Duncan's Ford Capri, Steve Perez's Datsun 260Z and John Lloyd's Ford Escort Mk2 to keep them company. In some ways, Duncan's victory could be said to be a double victory for Africa since the Capri that he was driving was originally manufactured for Ford in South Africa.
Third place went to Belgians, Gérard Marcy and Stéphané Prevot driving – like Blomqvist and Parmander – a Tuthill prepared Porsche 911. Their was an unchallenged run to the podium and a complete justification of their intention, announced before the start, that they would be proceeding at their own pace. Just behind them, a strong charge from Onkar Rai and Baldev Chager in a Porsche 911 was held off by the Amigos Team Datsun 260Z of Steve Perez and John Millington with the British pair showing their mettle by beating the flying Kenyans on the last stage by over a minute and a half to preserve their fourth place overall.
Kenyan father-and-son crew, David and Alex Horsey, took sixth place in another Tuthill prepared Porsche 911 with Safari Rally lover John Lloyd in seventh in a Viking Ford Escort Mk2 with co-driver Gavin Laurence. The remainder of the top ten places were occupied by Porsche 911s with Gregoire de Mevius and Alain Guehennec setting themselves a steady pace on the last day of this eventful rally and taking eighth place in a BMA Porsche 911. Kenyan crew Manvir Baryan and Jaswinder Chana claimed ninth place with the Belgian crew of Patrick Van Heurck and Alain Lopez rounding up the overall top ten in a Tuthill Porsche 911.
The battle for victory of this nine-day epic rally has kept everyone holding their breath but the stamina and skill of all the crews must be celebrated. This year the East African Safari Classic crown remains in Kenya but there is no doubt that it will be just as hotly contested in two years time.
Quotes from the top ten crews
Car no. 3   Ian Duncan/Amaar Slatch Ford Capri V8 Perana
Last time we won (2009) we were leading on the last day by 9 minutes, this time it was 9 seconds so today was stressful! Just because of that pressure it was much more challenging this year.
Car no. 5   Stig Blomqvist/Staffan Parmander Porsche 911
Of course it could have been a better day. We had a puncture in the last section not too far from the end and had to change it. It's been close for the victory on other rallies I've done but not on a long, hard event like this.
Car no. 6    Gérard Marcy/Stéphané Prevot Porsche 911
Every time we have done this event it is a different rally. It was tough two years ago because of the rain and this year it was really rough because there was no rain! We tried to keep to the same pace throughout and maybe we went a bit slower these last two days to save the car. We choose the sections where we know we can perform and push on those and then take it easier on the others. We'd be happy with sixth with the competitiveness of the field so third is a great result.
Car no. 7   Steve Perez/John Millington Datsun 260Z
I enjoyed today more than the whole of the rally. I pushed much harder today because those two Porsches were behind me and then I caught another Porsche on the last section. It's been long and rough and I'm glad I'm here and very happy with fourth place.
Car no. 19    Onkar Rai / Baldev Chager Porsche 911
Today we had a really good first section and I think we made Steve (Perez) panic a bit. In the last section we got caught in the Horseys' dust and lost some time. Let's just say the gazelle got away from the local lions this time! It's been very challenging and it took us about two days to get into the swing of things. I think local knowledge helped us but you have to have big balls to do this rally.
Car no. 8    David Horsey / Alex Horsey Porsche 911
Excellent! We finished off nice and slowly as we had no position to lose and no position to gain. I think the last section we may have held up Baldev (Chager). We're very proud with how the car has run and how we've looked after the car. All we've done is lost the horn, bent a rear arm and suffered some fuel injection problems but those were sorted by the Tuthill team.
Car no. 11   John Lloyd / Gavin Laurence Ford Escort RS1800
I'm knackered and too old for this! Today we took it gently-gently. With the competition in this event I'm really pleased with how we did. It was a very, very strong competitive entry and a really good event.
Car no. 2 Gregoire de Mevius / Alain Guehennec Porsche 911
On the first section today we went quite fast I had some good times on the Taita Hills before but then we backed off because there is little point – the others were too far away to catch. The second section was quite nice but the third was really a bit rough and there was a big mud hole right in the middle that we managed to avoid. This car was amazing – if it had not been for that one drive shaft, I think we could have been on the podium
Car no. 29 Manvir Baryan / Jaswinder Chana   Porsche 911
I'm very relieved to be here with the car immaculate – no bashes or dents – and we have had no problems today. In fact we've had very few problems all the way through. The only thing I feel about the rally is that it is perhaps a bit long – a sevenday event might be better and not keep us away from our families and businesses for so long!
Car no. 21 Patrick van Heurck / Alain Lopez Porsche 911
Today was fantastic, beautiful. We really enjoyed the drive down here but it was very hot! And the closer you got to the sea the hotter it got. The car is perfect and we had no problems today.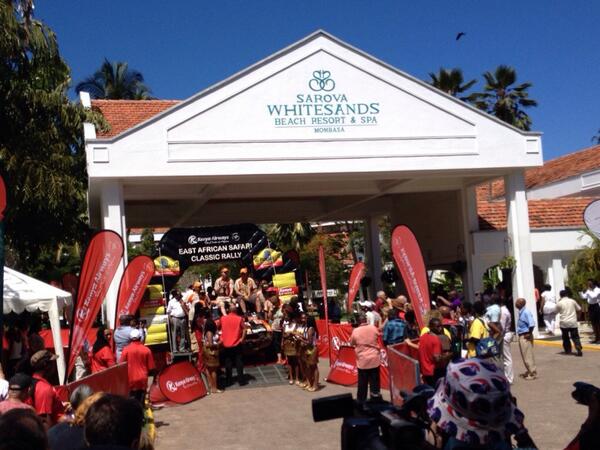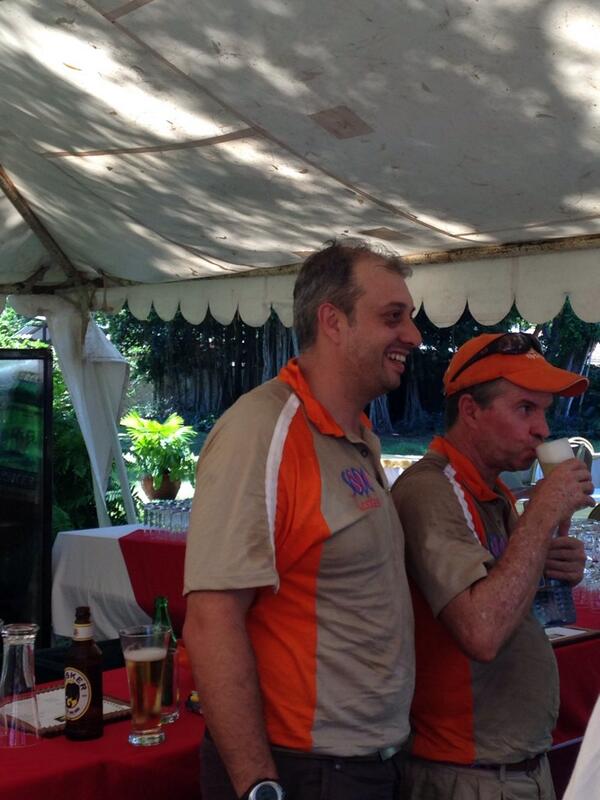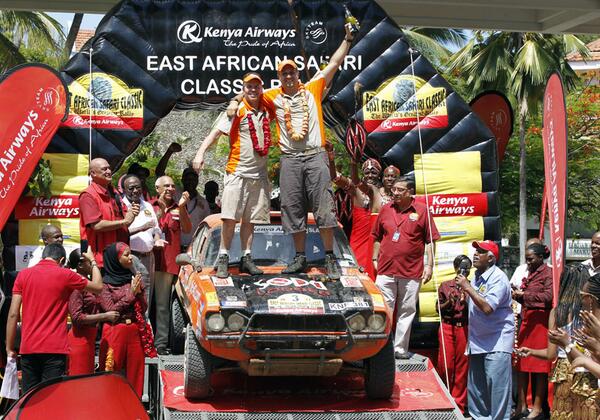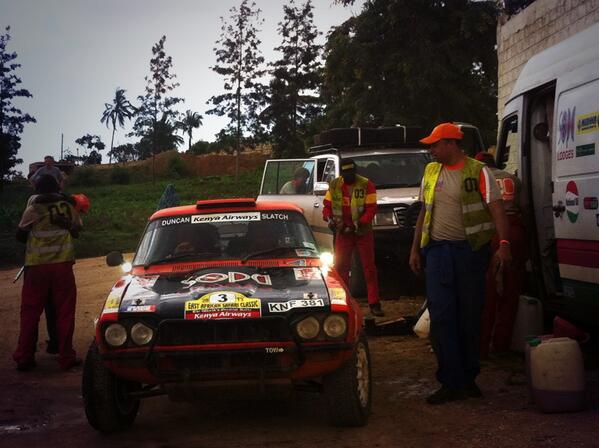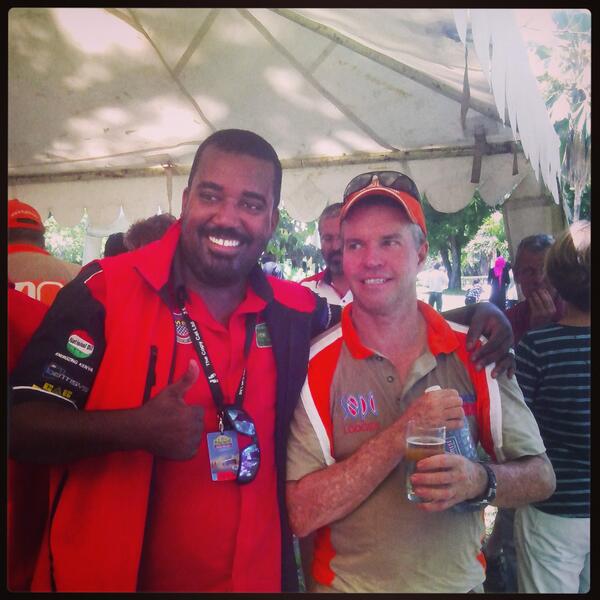 Image Credit: @EastAfricanSC , @teamhorsey, @Geoff_Mayes
News Source:  pressreleasemanager