2011 looks set to be an exciting year for Jaguar Land Rover MENAP, with the announcement that the premium, luxury automotive manufacturer will be the first automotive manufacturer in the Middle East and North Africa to create a dedicated social media 'suite' - a range of social media sites aimed at offering a level of interaction and information yet to be seen in the region by a car manufacturer.
As part of Jaguar Land Rover's dedicated social media suite, the manufacturer will provide content-rich blogs for each individual nameplate under the Jaguar and Land Rover brands. All sites will feature informative and interactive content that will provide customers, enthusiasts and analysts with in-depth knowledge relating to Jaguar Land Rover's latest news, model updates, developments and marketing campaigns, as well as regional brand exclusives, behind the scenes footage/images and live streaming of video content from regional and global events.
One of the first exclusive stories revolves around the all-new Range Rover Evoque during its time in the Middle East region. InteractiveEvoque.me published a behind-the-scenes look at the car in the Global Test Facilities & Planning centre at a top secret location in the UAE.
With the region now boasting over 40 million internet users* - 15 million of them using Facebook - in the Kingdom of Saudi Arabia, United Arab Emirates, Qatar, Kuwait and Bahrain alone, Jaguar Land Rover MENAP Marketing Director, Hannah Naji, is confident that this is an important step forward for the brands, with a strong presence on critical social media platforms such as Facebook, Youtube, Twitter and Flickr providing the burgeoning online community with a wealth of information and an opportunity to engage with the brand on a new level.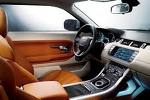 "Internet penetration in the GCC is estimated to be over a quarter of its population, which is higher than the global average by close to 3%, a clear indicator that automotive manufacturers need to take social media very seriously. With the launch of the groundbreaking Range Rover Evoque and indeed the evolution of all our nameplates and brands, it is important that we deliver our message and most importantly establish a two-way dialogue with an increasingly online-savy audience, to continue to position Jaguar Land Rover as a pioneer in the automotive industry," explains Naji.
Initially, content will be delivered in English, however the manufacturer will look into extending this to Arabic and French if there is a strong demand from MENAP markets.
"Our social media activities will ensure that our audiences across Middle East, North Africa & Pakistan will be able to access tailored, relevant content for each individual country in which we operate. To that end, the level of cooperation with our importer partners is crucial in allowing us to cross borders effortlessly. By ensuring we maximize speed of delivery and depth of content, I truly believe we will continue to stay relevant to our customers and be seen as social media leaders within this very important region." adds Hannah Naji.
Article source: http://www.zawya.com/story.cfm/sidZAWYA20110302113832