Ruthless syndicate driving 10 stolen cars daily across Kenya's borders
Updated: January 13, 2010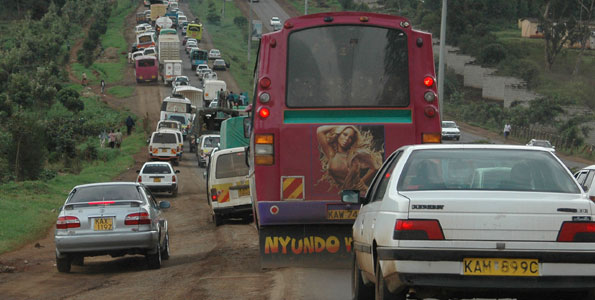 Self-driven hired cars are increasingly becoming targets of an international car theft syndicate that has stolen hundreds of cars from Kenya
The international theft ring, operating in Kenya and Tanzania, has been stealing an average of 10 vehicles from Kenya's major cities and towns and smuggling them to the Democratic Republic of Congo, Burundi and Malawi via Tanzania and Uganda. They hire the cars posing as clients or hold drivers of hired vehicles hostage, drug them or tie them up before driving off with the vehicles.
A co-ordinated Interpol operation conducted in 2007 in Kenya, Tanzania and Uganda netted hundreds of stolen vehicles in the three East African countries. However, one interesting case that has puzzled the Kenyan Anti-Motor Vehicle Theft Unit detectives is the mysterious disappearance of a Sh18 million ($234,000) Range Rover belonging to former president Daniel arap Moi from a showroom in Nairobi.
The vehicle, which has numerous special features, was imported into the country by Cooper Motors Corporation on October 30 and went missing on November 7. Flying Squad detectives have been looking for the car in vain. More than a month later, the vehicle, one among very few in the country, has yet to be traced. It is thought to have been driven through Tanzania and is suspected to be in Malawi already.
However, deputy police spokesman Charles Owino Wahong'o said the police were confident the vehicle will be recovered one way or another. Unlike earlier, when car thieves targeted high value four-wheel-drive vehicles alone, the demand for small Toyota saloon vehicles has increased. Police and stolen vehicle recovery firms reveal that the vehicles are mostly smuggled over the border, into the Kilimanjaro area in Tanzania and driven to Moshi, where the international car theft syndicate operates from.
"Once a stolen vehicle reaches Moshi in Tanzania, there is little chance for recovery unless it is intercepted within 24 hours. This is because the vehicles are stripped and checked for any tracking device before they are sold to prospective buyers," a source privy to the syndicate's operations said.
The car thieves hire trained "experts" who are paid one-third of the value of the vehicle to find and disable the tracking device before it is disposed of. If the "experts" find a tracking device on a vehicle, the dismantling charges are passed on to the buyer. In a single, vehicle recovery firm Track It intercepted and repossessed seven vehicles that had been hired by car thieves.
One such vehicle was a Toyota Corolla AE110 taxi that was hired by two men who wanted to be driven to Nairobi's posh Runda estate at about 9pm. However, the two men turned out to be carjackers and injected the driver with a knock-out drug before driving to Limuru forest, where he was tied to a tree and abandoned. When he regained consciousness at about 3am, he informed Track It, who traced the vehicle to the Cheptiret area in Eldoret, where the vehicle was found parked.
Another taxi driver was also tied up in Runda by two car thieves who hired him the same night from the National Social Security Fund offices in Upper Hill area. The vehicle was recovered on Nairobi's Juja Road. The next day, three car thieves posing as clients hired a Toyota Corolla AE 110 from the city centre and asked to be taken to Kiambu, but on the way overpowered the driver, tied him up and abandoned him in a forest before driving away within the vehicle.
The car was found hidden in a garage in the Kamukunji area.
Track It managing director Shezad Tejani says car hire firms should vet their clients and preferably only lease vehicles to people who are known to them or have referees.
"Most of the vehicles targeted are car hire vehicles, which are reported missing only three or four days after they have been taken. By then, the vehicle may either have been smuggled into a neighbouring country or cannibalised. Car hire firms should install GPS tracking devices to monitor the movement of their vehicles wherever they are," Mr Tejani says.
He points out that most motorists are not aware of the difference between a vehicle location unit — which assists in the tracking and recovery of a stolen vehicle — and fleet management devices that monitor the speed of a vehicle, how many stops it makes and if the doors are opened. Musa Yego, the officer commanding the Anti-Motor Vehicle Theft Unit, popularly known as the Flying Squad, says that car thieves have changed tactics and are hiring self-drive vehicles for an extended period, which they then use to drive them across the border before they are reported missing.
"Most of the cases we are receiving are of cars that were hired for a week or more and not returned. Car thieves are now using fake national identification cards to hire the vehicles. Only last week, we arrested a man who is implicated in the theft of about 30 vehicles stolen from car hire firms. His two accomplices had been shot dead a day earlier in Nairobi's Huruma estate while driving a stolen car," Mr Yego said.
The Flying Squad boss says the syndicate has infiltrated the Registrar of Motor Vehicles offices, where it obtains blank logbooks that are used when smuggling stolen vehicles across the border. Some car hire firms in Nairobi are now asking their clients to leave their fingerprints when they want to hire a self-driven vehicle. Car Track managing director Andrew Saisi says his company has recovered a total of 42 vehicles with tracking devices that were either stolen from parking, hired or carjacked around the country. Eight of them were high value four-wheel-drive vehicles and seven trucks.
Mr Saisi says most missing vehicles are those hired and never returned because they are reported missing up to three days after they are taken.
"By the time the car hire company realises that the vehicle is missing and reports to us, it is already out of the country. The logistics involved in cross-border operations are complicated and a stolen vehicle can easily disappear. We, however, are collaborating with many African countries and receive assistance all over the continent, unless it is in a war-torn area," Mr Saisi says.
The Car Track boss says there is little motorists can do to prevent vehicle theft. However, fitting a vehicle with a vehicle location unit makes it easier to trace and recover.
Stolen motor vehicle recovery firms use GPS satellite technology and VHF technology to trace stolen vehicles.
Adopted From:  www.theeastafrican.co.ke/news/-/2558/498928/-/view/printVersion/-/1shmw2z/-/index.html