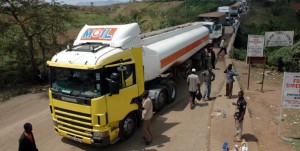 The congestion of lorries at the Malaba border point has been eased following improved services at the clearing point.
A senior Kenya revenue Authority (KRA) official said that congestion of transit goods lorries has been eliminated completely on the Northern Passage Corridor following efficiency at the Kenya and Uganda Revenue authorities Joint Verification Centre.
Speaking to journalists at Malaba border on Sunday on condition of anonymity as he is not allowed to speak to the press, the official said that KRA and URA officials at the Joint Verification Centre were taking only three minutes to clear one lorry unlike previous years when they used to take almost an hour.
He said that due to the efficiency, KRA and URA officers were now clearing more than 800 lorries daily.
He said congestion was wiped out because of the 24 hour operation system.
"KRA and URA are now working round the clock to ensure that no trucks pile along the highway any more," he said.
He said the two revenue authorities will start improving facilities at the border jointly to enhance clearance of transit goods destined for the Greater Lakes Region states.
Drivers who were interviewed by the Nation expressed joy saying that elimination of permanent along the Northern Passage Corridor was a big relief for them.
"We are very happy with the new KRA customs boss for wiping out the congestion which had led to delays of at least two weeks to arrive to our destinations," Mr Omar Yusuf, a driver heading to Southern Sudan said.