Crisis looms in plan to deny matatu operators insurance
Updated: September 22, 2011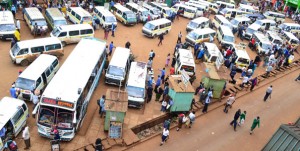 Kenya's public transport operators are facing their toughest challenge yet after the insurance industry made clear its intention to stop underwriting their vehicles citing excessive level of risk exposure.
Through their lobby, the Association of Kenya Insurers (AKI), the underwriters said huge amounts of fraudulent claims had made it impossible to insure public service vehicles — commonly known as matatus — and remain in profitable business.
Tom Gichuhi, the AKI chief executive, said the industry's troubles have been deepened by unstructured claims from victims of matatu accidents.
"We urgently need a law that predetermines the amount of compensation payable for specific injuries," Mr Gichuhi said adding that in the absence of such a law, the industry had no option but to stop insuring public service vehicles.
The insurers spoke five days after the industry regulator — the Insurance Regulatory Authority (IRA) — placed Blueshield Insurance Company under statutory management for failure to meet its financial obligations.
Until its collapse last week, Blueshield was one of Kenya's top insurers of public service vehicles with nearly half the industry in its register.
Two other top players in the public service vehicle insurance market — Directline Insurance and Invesco Assurance — have sought court protection from settling an estimated Sh1 billion in claims.
The insurers' threat to stop underwriting the mandatory third party matatu risks carries grave consequences for the economy, especially in its potential to paralyse movement of people and goods.
The collapse of Blue Shield leaves Directline and Invesco with the challenge of insuring an estimated 50,000 public service vehicles.
BlueShield Insurance has been the top PSV underwriter and by the time of collapse last week, had unpaid claims of Sh1 billion.
Kenya's insurance industry has more than 40 players but most have chosen to stay out of the matatu market because of its chaotic operations and the resulting exposure to fraudulent claims.
While the small number of players in the PSV underwriting market should ordinarily yield good business to the courageous few, theirs has been a tale of heavy claims and thin profits that saw Invesco seek court protection against a Sh600 million bill it faced two months ago.
In its plea before the court, Invesco argued that half of the claims were fraudulent. Invesco sought court protection only a few months after it emerged from statutory management with the Matatu Owners Association's purchase of a controling stake in the firm.
Directline took the cue from Invesco but the moratorium that would have affected 10,000 covers has been challenged by the IRA.
The regulator has objected to the application, arguing that the insurers were only alleging fraud to cover up their inability to pay claims. The court is yet to make a decision.
Industry statistics show that Directline last year made an underwriting loss of Sh38.9 million in 2010 from gross premium of Sh1.5 billion while Invesco made an underwriting profit of Sh16.2 million in the commercial motor vehicle business category that includes PSVs.
Blue Shield became the eighth PSV underwriter to collapse in the past two decades after Standard Assurance, the Kenya National Assurance, United, Lakestar and Liberty Insurance, Access and Stallion Assurance companies.
Policy holders are estimated to have lost more than Sh15 billion in unpaid claims and billions of shillings in unutilised premiums, fuelling high consumer distrust of the insurance industry.
Insurers have more recently lobbied for structured payment of claims as a way out of the fraudulent claims predicament but MPs have rejected several attempts to pass the law.
The most recent attempt to push the Bill through Parliament came during this year's budget review but it once again failed to win the support of MPs.
Insurers attribute Parliament's refusal to pass the Bill to the immense influence that lawyer MPs wield in the House.
Lawyers see predetermined payments as the industry's means of cutting down its risks in the market without making it easy for policy holders to get paid.
Unstructured payment of claims has seen the same courts award Sh1 million compensation for lost limb to one accident victim and Sh3 million to another for a similar loss.
"PSV business is most profitable but our greatest enemy is the judiciary," said Silas Simatwo, the MD of Africa Merchant Assurance Company (AMACO) which has scaled down its exposure to PSVs from 75 per cent five years ago to 25 per cent this year.
"Our experience is that PSV underwriting is profitable in small scale. We are able to follow up accident cases and investigate, therefore reducing opportunity for fraud," said Mr Simwatwo.
Industry players see the challenge as coming from the weak corporate management of some PSV underwriters.
For example, directors of Standard Assurance, which is under statutory management, failed to remit various statutory levies to the regulator. Documents from statutory managers of the company that went down with Sh1.5 billion in unpaid claims.
Brokers also failed to remit millions of shillings to the firm while employees skimmed off cash on realising that it was on the verge of collapsing.
Employee theft has also been blamed for Blue Shield's troubles.
Invesco is now managed by Matatu Owners Association and is expected to offer lessons for the industry with its loyalty model that is hinged on the fact that the policy buyers are also members of saccos that own the company.
Another group of PSV owners, the Matatu Welfare Association (MWA), is said to be negotiating to buy one of the companies under statutory management.
"It is a big stress on operators when companies collapse. The loss of unused revenue and chances that accident victims may at one time sue the owner," said MWA chairman Dickson Mbugua.
"We have recommended models of insurance in PSV and the government should now move fast to test those that can work better ".
Both Matatu operators and insurance industry managers have recommended mutual insurance schemes where the operators have a stake in the insurance company to encourage discipline.
Another is a levy model paid by all insurance companies to compensate third party claims. This model is used in South Africa and Morocco.
Also, operators had recommended that each PSV be profile-based on its claim history and those with regular claims pay much higher premium, a move seen as likely to encourage discipline.