Muranga Matatu operators Resist New Competitor
Updated: November 22, 2013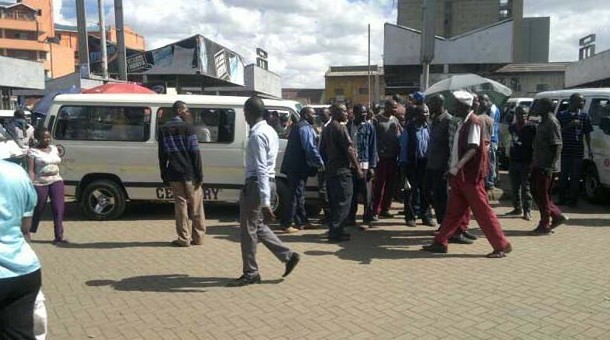 Matatu operators in Murang'a town have been warned against blocking their competitors from using the main matatu terminus.
Town administrator Jeremiah Kamau said every operator had a right to use the space saying the county government was in charge of the facility.
He was speaking Thursday at the main terminus where operators were protesting over the introduction of a new operator.
Tension was high Thursday mid-morning as matatu drivers and conductors resisted the move to have another operator claiming they were not consulted on the move.
A war of words ensued between youths allied to the new competitor and another from other operators temporarily disrupting transport at the moderately busy terminus.
"We had previously agreed that no other operator will be allowed here as there is no space to accommodate any new matatus," said Murang'a County Drivers and Conductors chairman Stephen Mwangi as he led others in shouting down the town administrator.
Another matatu driver claimed the new-comers were members of the outlawed Mungiki sect and would lead to a rise in insecurity at the stage.
They said there were other termini in the town which the new operator could use instead of squeezing into the already full terminus.
Fearing for the worst, the new matatus were withdrawn from the stage and left the area.
But the town administrator insisted the new operator must be allowed to run business from the area as the terminus was not owned by any individual.
"I will ensure the new matatus conduct business from the terminus," he said.
He warned that those who would resist the move would face the law.
He refuted claims that his office never consulted the other operators.
He said that plans to hold a consultative forum with the operators had been futile as they had declined to attend any meeting.
Mr Kamau said the new operator plying the Murang'a- Gatanga route was very crucial as residents from Gatanga sub county needed direct transport to the county headquarters.
"Previously before devolution came, Gatanga residents used to be go to Thika town (now in Kiambu County) whenever they needed services.
But with devolution, they will be required to travel to Murang'a town hence the need to have matatus plying that route," Mr Kamau added.
He also denied that the new operator belonged to the outlawed Mungiki sect saying those were rumours meant to instil fear among operators.
News Source: DAILY NATION