How to clean car interior
Updated: February 14, 2011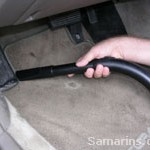 Clean interior not just looks great, it also better for your health. Whether you are preparing your car for sale or simply want to keep it clean, below are few tips how to clean the interior of your car.
Remove the floor mats. Vacuum the seats, and the carpet. Using the proper attachment, reach under the seats, around the pedals and the area between front seats and central console. Vacuum floor mats separately.
Use soft brush attachment to vacuum the dashboard and doors. Be careful not to damage knobs vents and sticking parts. Use the same attachment vacuuming the seats. Leather seats are very easy to damage, be careful no to scratch them with the vacuum hose.
Cleaning fabric seats and door upholstery
There are number of upholstery cleaning agents available. Here I used a spray cleaner from Turtle Wax®. Simply spray evenly on the seat or door upholstery and rub vigorously. Then, wipe it thoroughly with a dry cloth.
If you don't have an upholstery cleaner, a laundry detergent will work as well. Mix some detergent with warm water. Dip
a clean cloth into it, squeeze out well - you want barely moist cloth. Work harder on dirty areas. When
you finished, dry out well with a clean, soft dry cloth.
Be careful with water inside the car - if the water gets into electrical components it may cause problems. Similarly, you don't want water to get inside your seats or under the carpet - it could cause corrosion, stains and mould smell.
Cleaning the carpet
You can clean the carpet the same way you cleaned the seats and upholstery.
Spray evenly with the carpet cleaner and rub vigorously. Then, wipe it thoroughly with a dry cloth.
The laundry detergent will work on the carpet as well.
Again, don't soak the carpet with water, it will cause mould smell and corrosion under the carpet. Dry it out as fast as you can.
Cleaning and polishing the dashboard
Clean a dashboard, central console, and other plastic parts with a barely moist cloth. Use very small amount of laundry detergent to remove the stains. Dry with a clean soft dry cloth. To make it shiny, spray plastic polish and spread it evenly with soft brush. Don't spray directly on the stereo, use brush instead.
Dry-polish gently with clean soft dry cloth. Polish not only makes the dashboard shiny, it protects the plastic. All you need to do after, is just use a soft duster periodically and your dashboard will look like new for a long time.
How to get rid of musty smell from the air conditioner
If you experience that unpleasant musty smell from the vents when the air conditioner is turned on, you can try one of the odor treatment you can buy in your local auto accessories store. It kills the bacteria and removes that mildew smell. Here I used one from Wynn's® that you simply spray into outside air intake vent (check directions on the can).
Clogged air conditioner drain tube and accumulation of leaves and other debris under the cowl cover also may cause damp mildew smell. Ask the mechanic to check it when you do your next oil change.
Fro more similar articles, visit source: http://www.samarins.com/maintenance/interior.html