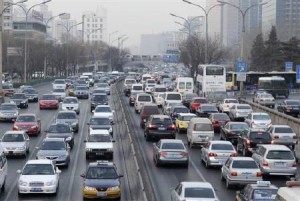 Vehicle sales are anticipated to rise to 23 million units by 2015, up 27 percent from their level in 2010, a senior Chinese government official said on Monday in Shanghai, just ahead of the official opening of the Shanghai Auto Show.
That figure suggests a slowing growth rate because it is lower than the 32.4 percent rate in 2010, in which China's sales totaled 18.1 million units. Car sales alone rose a third last year to 13.8 million units.
Those sales secured the country's position as the world's biggest auto market for the second consecutive year.
Su Bo, vice minister of the Ministry of Industry and Information Technology, disclosed the forecast at a seminar being held ahead of the Shanghai Auto Show, which opens to the press on Tuesday.
But while the official growth rate may slow, the outlook is positive enough for Chinese car makers and their overseas partners to make substantial investments on the mainland.
One example is General Motors' Chevrolet unit, where an official said in Shanghai that the company sees its international sales doubling in five years.
Susan Docherty, GM's international operations vice president of sales, said Chevrolet sold 1.1 million vehicles globally in the first quarter, up 15 percent from a year earlier.
"We expect the Chevrolet sales to more than double over the next five years," Docherty said of Chevrolet international vehicle sales, which include China.
GM sold 1.2 million Chevrolets in its international operations unit last year, up 40 percent from 2009 and more than double from five years ago.
GM said late last year it expects exports of its China-made Chevrolet Sail to more than quadruple this year due to rising demand for low-cost quality vehicles in emerging markets.
Officials at PSA Peugeot Citroen say they too are convinced China's car market will continue to grow by about 10 percent a year for several years.
In a move that illustrates the importance of China, Citroen was due to take the wraps off its new DS5 premium five-seater car in a Shanghai ceremony on Monday.
"Ten percent growth will last for several years," said Philippe Varin, Peugeot's CEO.
Gregoire Olivier, chief executive of PSA's Asia operations, said that about 5 percent of Chinese people own a car compared with about 55 percent of Europeans, a disparity he said showed how much room there is for the Chinese market to grow.
Car ownership is not evenly spread throughout the country, with Beijing and Shanghai having to impose limits on car registrations even as smaller towns and cities with lower car ownership numbers emerge and car makers rush in to scoop up sales.
"Smaller towns are getting into the market and car makers are starting to be able to set up there," said Varin.
PSA will produce DS5s, the latest model in its DS range, in China with its new partner Changan Automobile, China's No. 4 auto maker.
INDIGENOUS BRANDS
One way auto makers, foreign and domestic, plan to increase sales in China is by teaming up to build "indigenous brands", and Chinese car makers themselves are trying to grow their own brands both at home and abroad.
Chongqing Changan Automobile Co Ltd, which has a three-way partnership with Ford Motor Co and Mazda Motor Corp in China, said the joint venture is considering rolling out its own brand.
Changan makes and sells Ford models including the Focus, Fiesta and Mondeo in China under its partnership with Ford and Mazda. It also sells the Mazda 2 and Mazda 3.
Ford itself is planning to increase its presence in China. The U.S. car maker said last week that it would introduce 15 new vehicles, double its dealerships from 340 and add 1,200 new jobs in China by 2015 as it seeks to catch up with rivals.
The step is the latest round of initiatives that the U.S. auto giant has taken in China since Asia and Africa chief Joe Hinrichs took the China chief executive role last October.
The first of the 15 new models, the Focus, will go into production in 2012 at a planned $490 million factory in Chongqing with an initial capacity of 150,000 units.
Peugeot too will launch what it calls a dedicated brand. As required by Chinese legislation, PSA and Changan will launch the brand starting with commercial vehicles and passenger vehicles following two to three years later.
Olivier said the new brand could be launched within a year.
"China is objective No.1 for the brand, but we can't rule out exporting it," he added.
Article source: http://in.reuters.com/article/2011/04/18/idINIndia-56401720110418