New car review: Toyota Avensis
Updated: November 29, 2013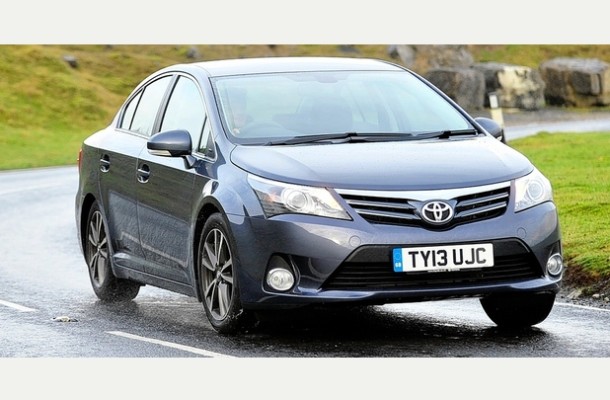 Thinking of a medium range car? Then you may not be considering Toyota's Avensis.
FOR more than two decades, Toyota has provided customers in the medium range Mondeo segment with a safe, conservative set of wheels. Not, perhaps, the most exciting choice but the most sensible one. An Avensis stood for just that – and so does this improved third-generation version.
Here's a car designed very much for the people who will drive it; those who have to cover long distances quickly and use the time while they do effectively. Little point then, in the range providing us with a sporty model. But that doesn't mean there isn't plenty of punch across the engine line-up. Most are satisfied with the volume unit, the 124bhp 2.0-litre D-4D diesel we tried, now with a 310Nm torque figure that gives it 20% more pulling power. And it's that pulling power that makes it feel a good bit faster than the 10 second rest-to-60 figure might suggest. You hardly have to stir the six-speed manual gearbox at all for instant poke in almost every gear. For those who are in search of a little more performance, there's a 148bhp 2.2-litre version, the main virtue of which is that it offers an automatic gearbox option.
Petrol people are becoming a little thin on the ground in the fleet-dominated Mondeo market, but they have the option of a 145bhp 1.8-litre Valvematic variant, with drive either by six-speed manual or Multidrive S auto transmission with steering wheel-mounted paddle shifts. All of which is much as before – as is the driving experience, though those owners familiar with this MkIII model will be the first to appreciate the improvements made. The suspension tweaks for example – though I can't help feeling these have made the ride a touch less settled over poor surfaces. It's still great on the major routes, an environment in which you'll appreciate the useful strides forward Toyota has made when it comes to refinement.
The improved MkIII features what is Toyota's latest design language – the so-called "keen look" – which is supposed to give a more dynamic feel to the company's product range. At the front, narrower headlamps come with daytime running lights and flank a trapezoidal grille that's larger, wider and with deeper blades. It sits above a more sculpted bumper with this protruding centre section housing a large air intake, intended to emphasise the car's wide stance and give it the more assertive look that it always deserved.
I'll cut straight to the chase here: the Avensis is well worth a fresh look. By upping equipment, improving efficiency and incorporating some impressive technology, Toyota has forced it back into class contention. When you have a car efficient enough to put benefit-in-kind cash back in your pay packet and clever enough to enable you to email, tweet and text on the move, you have one that's going to endear itself to plenty of people.
Toyota played it a little safe for fear of upsetting the legions of customers attracted by the sensible charms of previous Avensis models. It knows the medium range market is closely fought, with buying decisions often coming down to the smallest detail. Worryingly for its rivals, this car seems to have got most of the details that matter right.
News Source: Derby Telegraph